Birds of Valhalla
For Super Dry or Damaged Skin Ragnar's Revenge Soap- Cucumber, Aloe, Melon, Spearmint Face and Body Soap
Regular price
Sale price
$20.00 USD
Unit price
per
Sale
Sold out
For dry and or problematic skin, windy or desert conditions, for mountain living and ocean exposure, people with skin allergies and sensitivities. For cracked hands, feet and elbows. This foodbased soap can be used on your body, face and hair. 
Each batch will vary in appearance but expect bars to be an average 4.5 oz each. Our soaps last the average person 4-8 weeks, depending on use and storage between use.
About the soap and why it's special;
Ragnar's Revenge is a natural, food-based soap that is handcrafted with a unique blend of ingredients that work together to create a refreshing and invigorating experience. The soap is made with pure olive oil, coconut oil, and castor seed oil, which are known for their moisturizing and cleansing properties. In addition, we add pure ground cucumber, aloe vera, essential oil of spearmint and a touch of melon phthalate free fragrance. These oils are carefully blended together to create a luxurious lather that gently cleanses the skin while preserving its natural oils, which has been tremendously received by our customers all over the world regardless of the season. 
The story behind the soap and why we named it "Ragnar's Revenge."
The name Ragnar is derived from Norse mythology, specifically from the legendary Viking warrior Ragnar Lothbrok. According to the sagas, Ragnar was a legendary hero who led several raids on England and became a king of Denmark and Sweden. He was known for his bravery, cunning, and fierce warrior spirit, and his name has become synonymous with strength and resilience. However, at the end of the day- as we saw in the series "Vikings," the man really just wanted one thing... Farmland. In naming their soap Ragnar's Revenge, the creators have imbued the product with the same sense of strength and vitality that was associated with the legendary hero, combined with the ingredients imbuing it with the scents and effects of the spoils of a vegetable farm Ragnar may have finally had. It's a fitting tribute to the Norse tradition and adds an extra layer of depth and meaning to the product.
The Ingredients;
One of the key ingredients in Ragnar's Revenge is aloe vera, which is known for its soothing and healing properties. When used in soap, aloe vera helps to soothe and calm the skin, making it an ideal ingredient for those with sensitive or irritated skin. We originally sold this soap in summers only, but found that our customers demanded it in dry winters, windy plains and after any sun or wind exposure near the seas or mountains. 
Another key ingredient in Ragnar's Revenge is cucumber, which is known for its cooling and hydrating properties, making it an ideal ingredient for skincare products. In soap, cucumber helps to soothe and refresh the skin, leaving it feeling clean and revitalized and never tight. You may find you don't even need moisturizer after using this soap. 
In addition to these key ingredients, Ragnar's Revenge also contains phthalate-free fragrance oil and essential oils. The soap is scented with a refreshing blend of cucumber, honeydew melon and spearmint, which gives it a crisp, clean scent that is perfect for any gender. The fragrance oil is carefully selected to ensure that it is safe for use on the skin, and does not contain any harmful chemicals or additives.
How to use the soap;
When using Ragnar's Revenge, simply lather the soap in your hands or on a washcloth and massage onto wet skin. The soap will create a rich, creamy lather that cleanses the skin without leaving it feeling dry or tight. Rinse thoroughly with water and pat dry with a towel. Many customers also claim this soap is fantastic for the face and hands as well. To make your bar last a very long time, be sure to search "Soap Dish," on our website and treat yourself to a handmade soap dish that will up to double the life of your soaps for years to come. (or click here) https://www.birdsofvalhalla.com/products/soap-dish-and-soap-bundle?_pos=1&_sid=551db984c&_ss=r
Overall, Ragnar's Revenge is a natural, food-based soap that is perfect for those who want to pamper their skin with high-quality, nourishing ingredients. The soap is gentle enough for daily use, and its refreshing scent make it a pleasure to use. Whether you're looking for a new addition to your skincare routine or a unique gift for a friend or loved one, Ragnar's Revenge is sure to impress.
Other products to consider if you like the sound of this soap; 
Our lip balm will spoil you forever. It's also made with all food based ingredients and lasts for hours and will be like no other lip balm you have ever used. It is especially effective for lips that tend to crack. 
Our lotion is made with... you guessed it- food based ingredients like grape-seed oil and vegetable based e-wax, beetroot preservative and phthalate free and essential oil options. Add the BLACK TIE option for any joint pain, inflammation or rashes. Sometimes, if you are lucky, you can get the lotion customized to your scents. Please limit those selection to three. for any questions, please just message us and our shop goblins will be sure to help make you something unique. 
Solid shampoo bars are trending- and for a reason. If you have issues with falling hair or thinning hair, you got to try the Malachite shampoo bar- but, don't take our word for it, read the reviews. If you have dry or itching on your scalp, try literally any of our shampoo bars- just pick your favorite scent. Be forewarned, we can't make these fast enough for demand and they DO sell out frequently. Note; WE DO NOT RECOMMEND THIS PRODUCT IN HARD WATER. 
Share This Item
Ingredients

Olive Oil, Coconut Oil, Castor Seed Oil, Tallow or Lard, Water/Lye Solution & Fragrance Oils
Contains Coconut & Latex from Aloe

This product contains COCONUT & LATEX
Care information

For maximum use please make sure to store your soap in a space that it can fully dry between uses.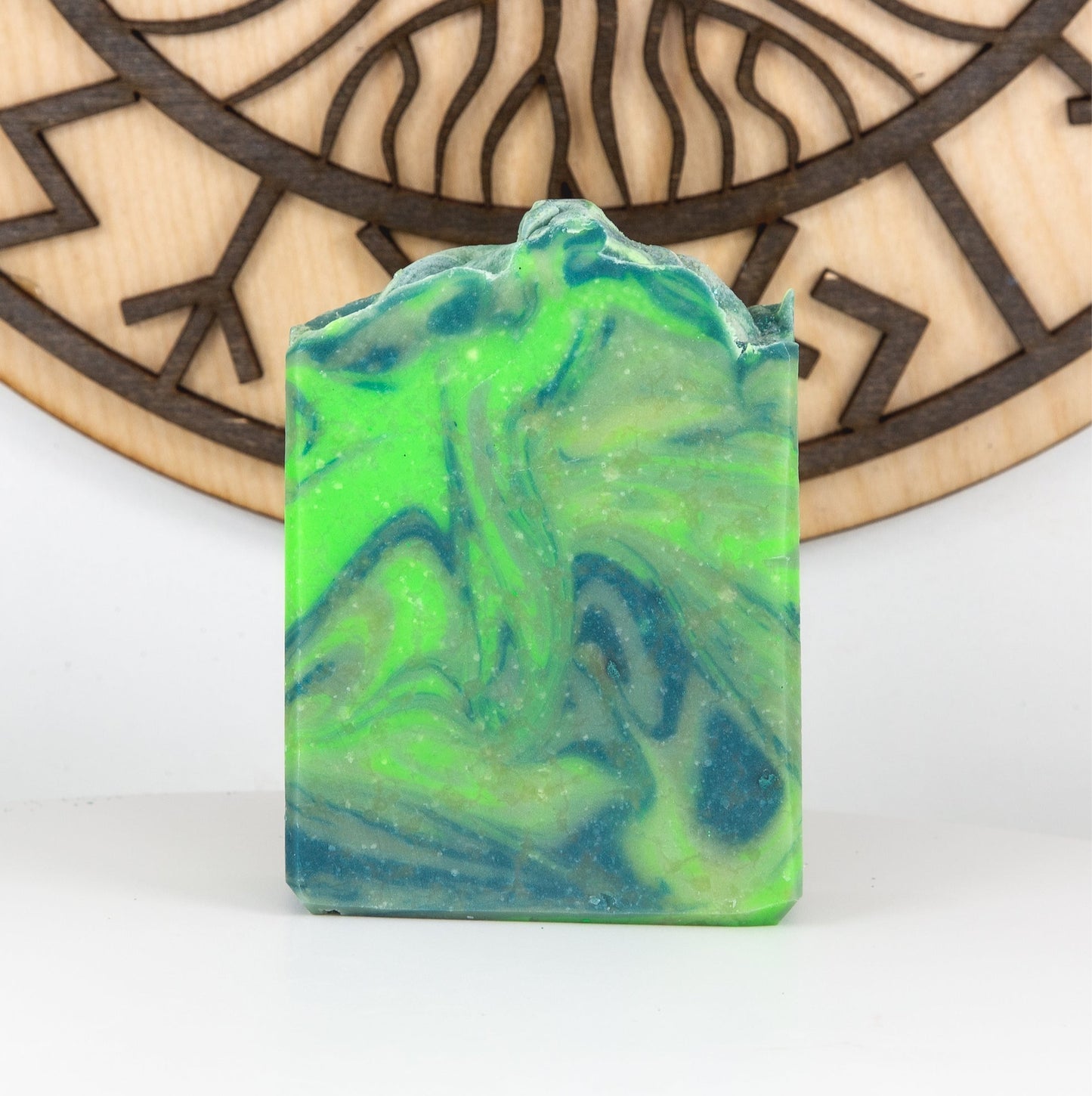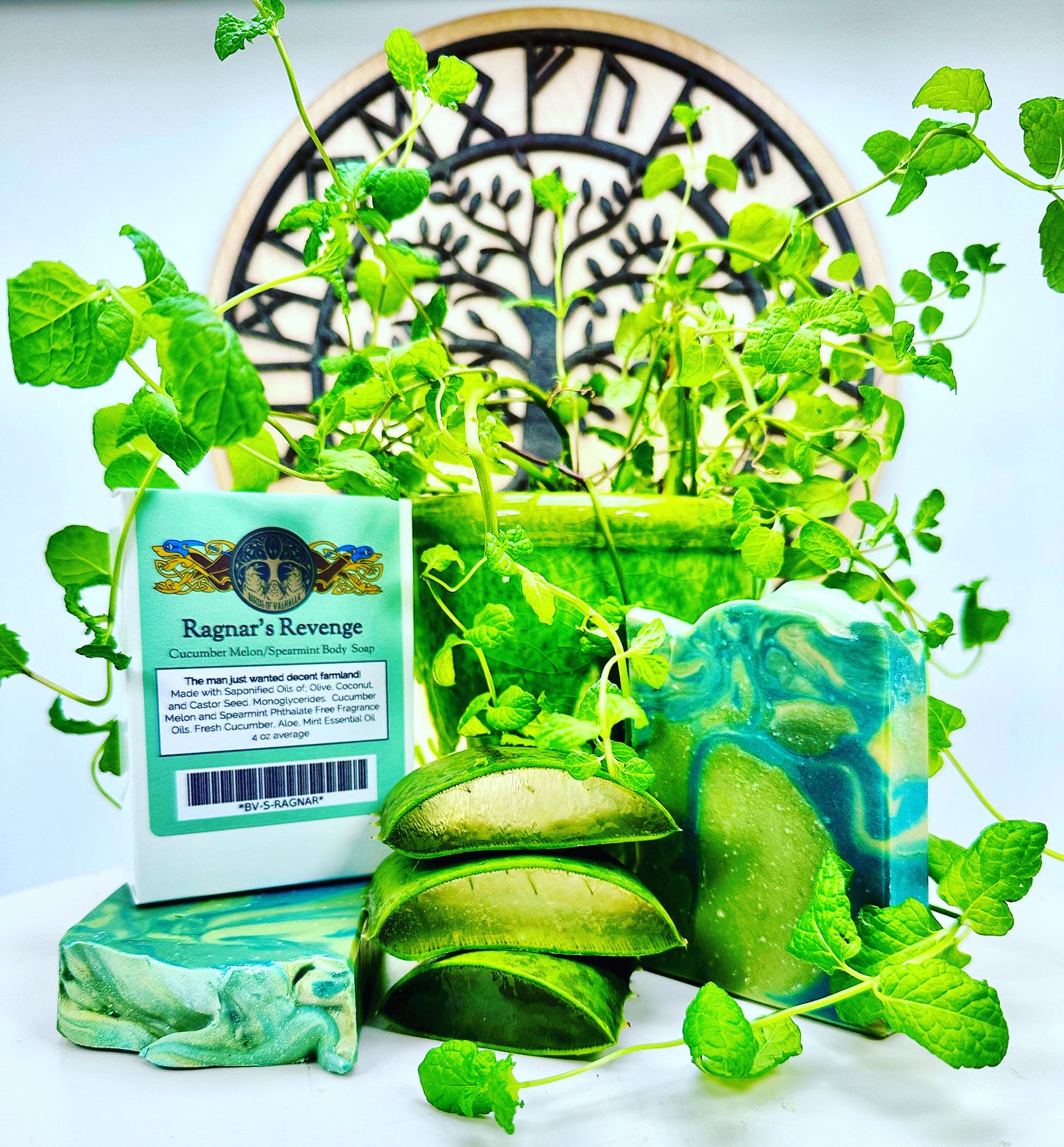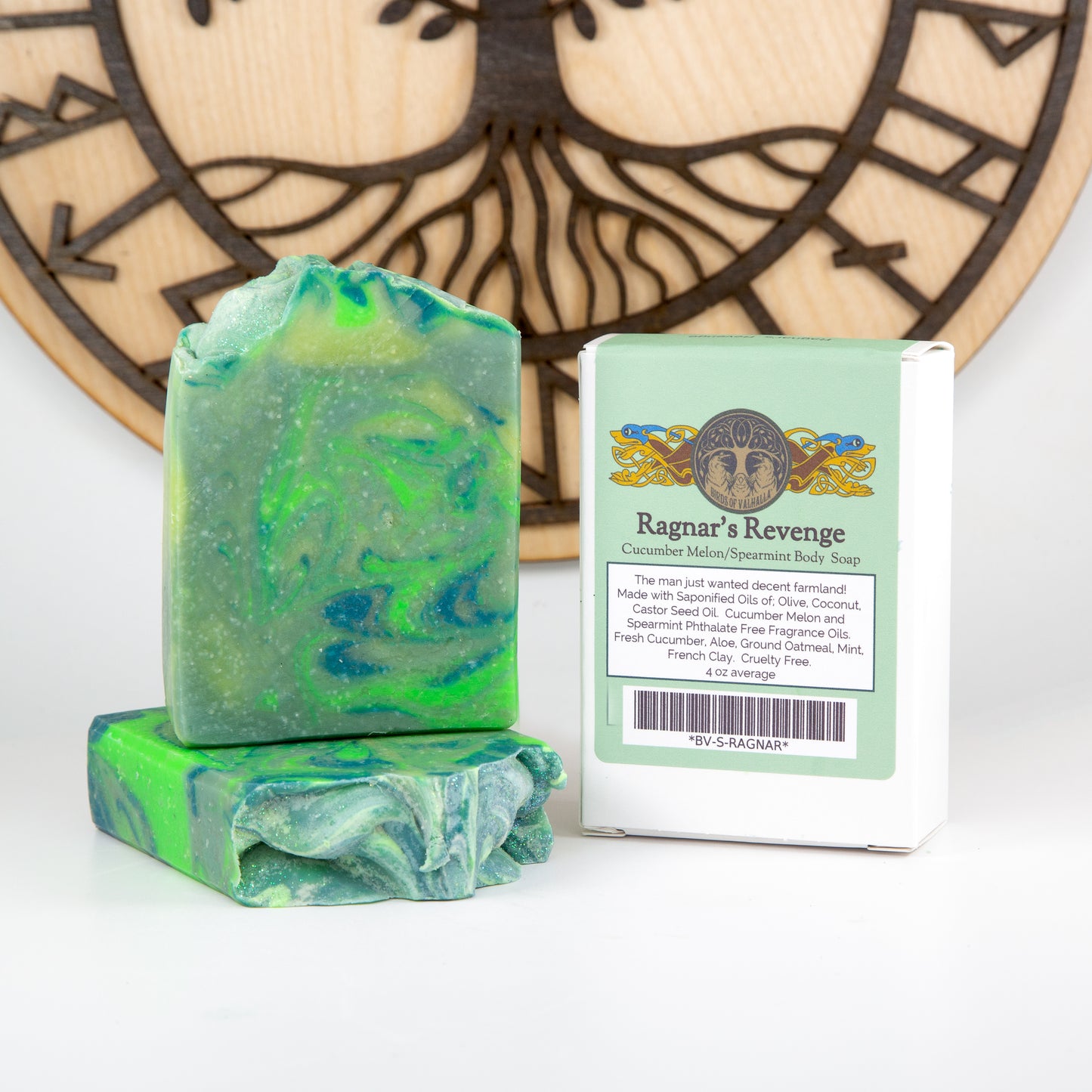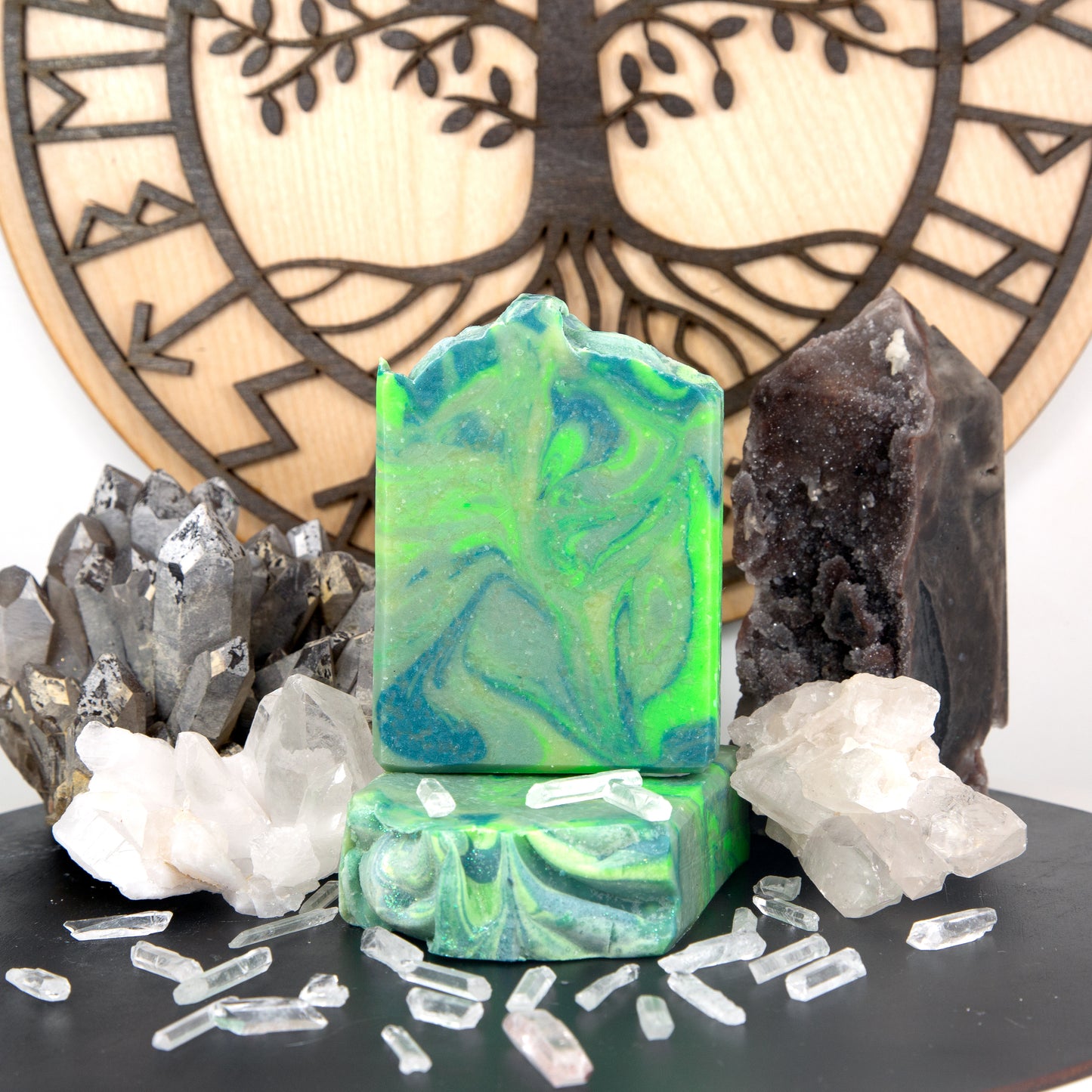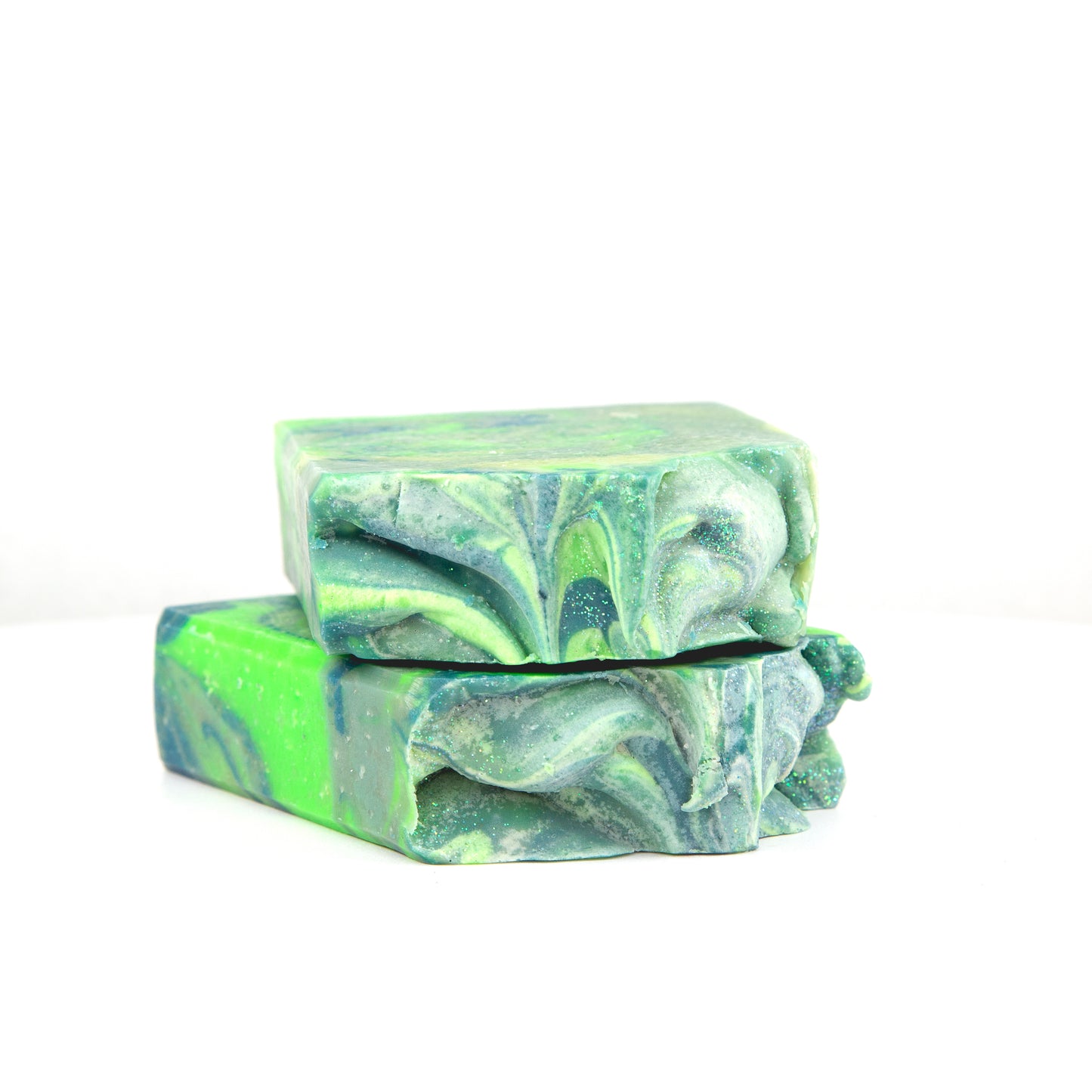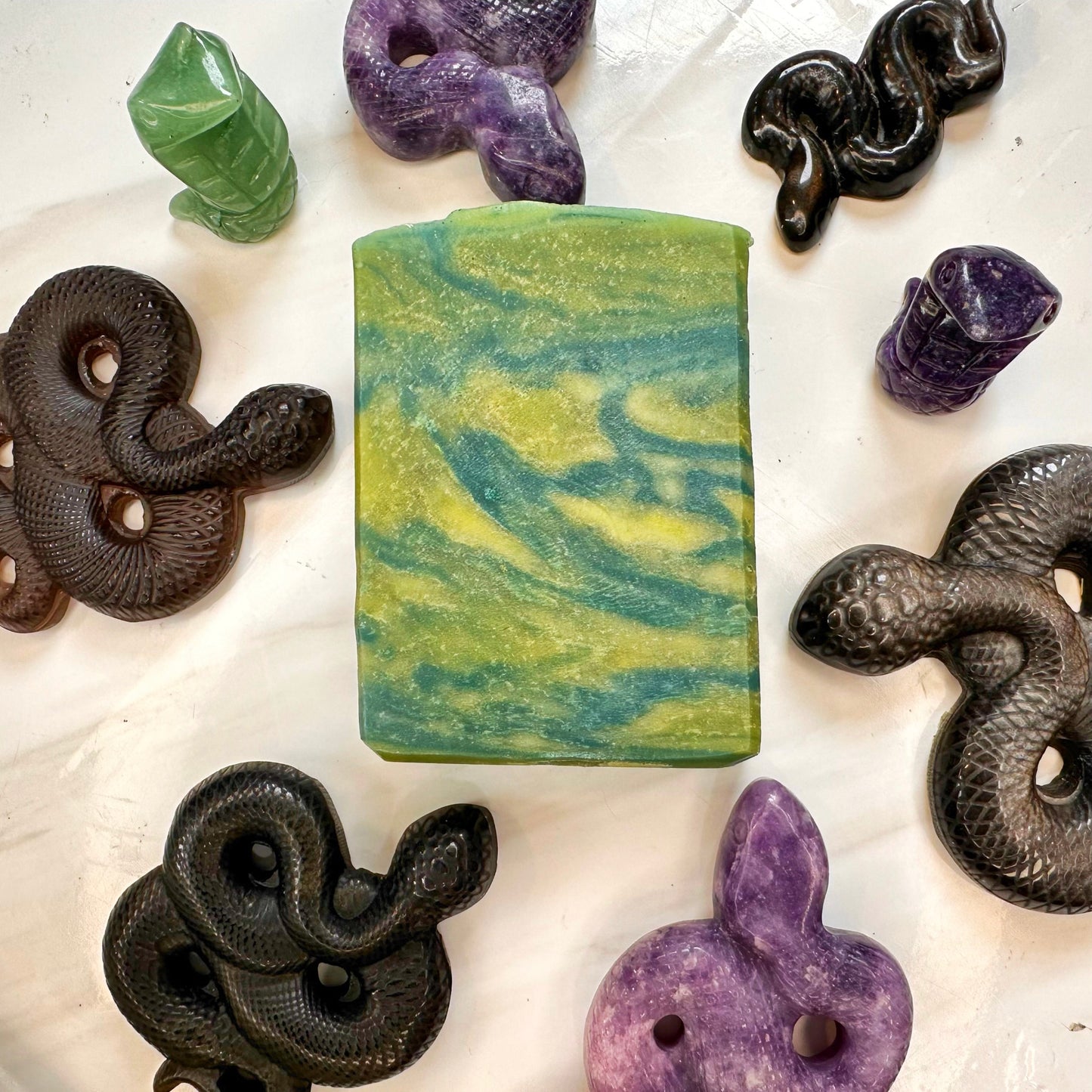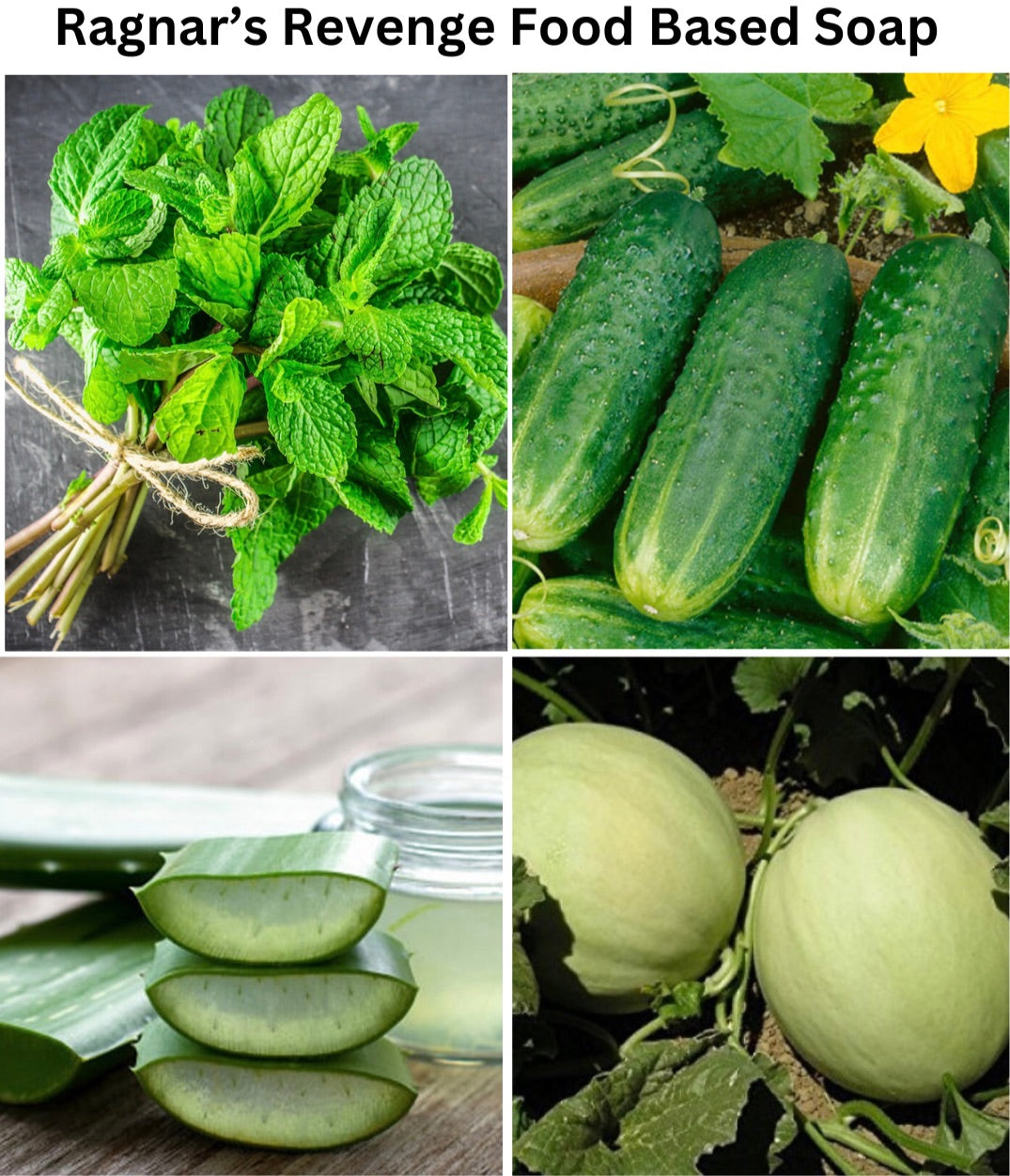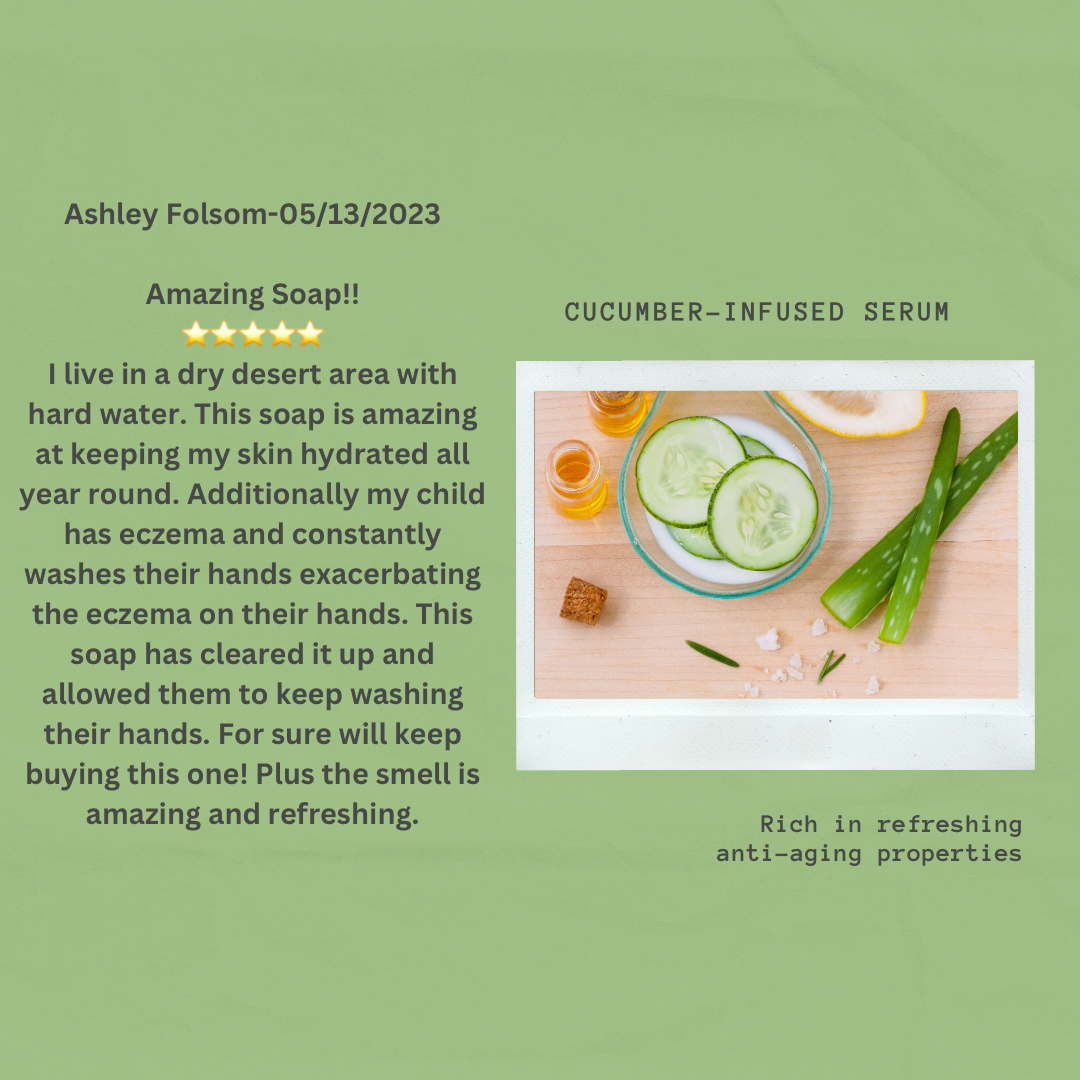 Well worth it!
Smells amazing! My skin feels softer and I think it has been helping to soothe my sunburns. Lathers up so well and is pleasant to use when applying and a light scrub. Been using it every day since I got it. I'll definitely be a returning customer.
Best soap ever
I have so many skin issues and this bar is a life saver! ❤️ best damn soap ever!
Fully Amazing soap!!
Picked up two bars and honestly I regret only getting two. Me and my boyfriend have been remodeling the house while I myself have been running my own small business ramping up for Halloween..so it's been stressful!! But these soaps instantly relaxed us and soothed us and felt great…and they take paint off of your skin like a dream!!
We're already planning to order more so we can put them in our guest bathrooms.
Amazing Soap
I live in a dry desert area with hard water. This soap is amazing at keeping my skin hydrated all year round. Additionally my child has eczema and constantly washes their hands exacerbating the eczema on their hands. This soap has cleared it up and allowed them to keep washing their hands. For sure will keep buying this one! Plus the smell is amazing and refreshing.
This was amazing!
This soap is amazing and smelled so good! Im out of it now and I'm sad but will be ordering more!